Plan Your Visit
Summer for the City 2023 has come to an end!
Thank you for joining us at the Ultimate New York Festival
Visual Director Clint Ramos transformed the Lincoln Center campus with multiple open-air outdoor spaces of welcome—inviting all New Yorkers to enjoy throughout their day, whether a show is on the agenda or not! Bust a move and snap a photo on The Dance Floor at Josie Robertson Plaza, read a book at the New York Public Library for the Performing Arts' Reading Room, beat the heat at The Garden at Damrosch Park, or relax and and play corn hole (amidst hundreds of pink flamingos!) at Hearst Plaza. Explore spaces & venues »
Summer venues & outdoor spaces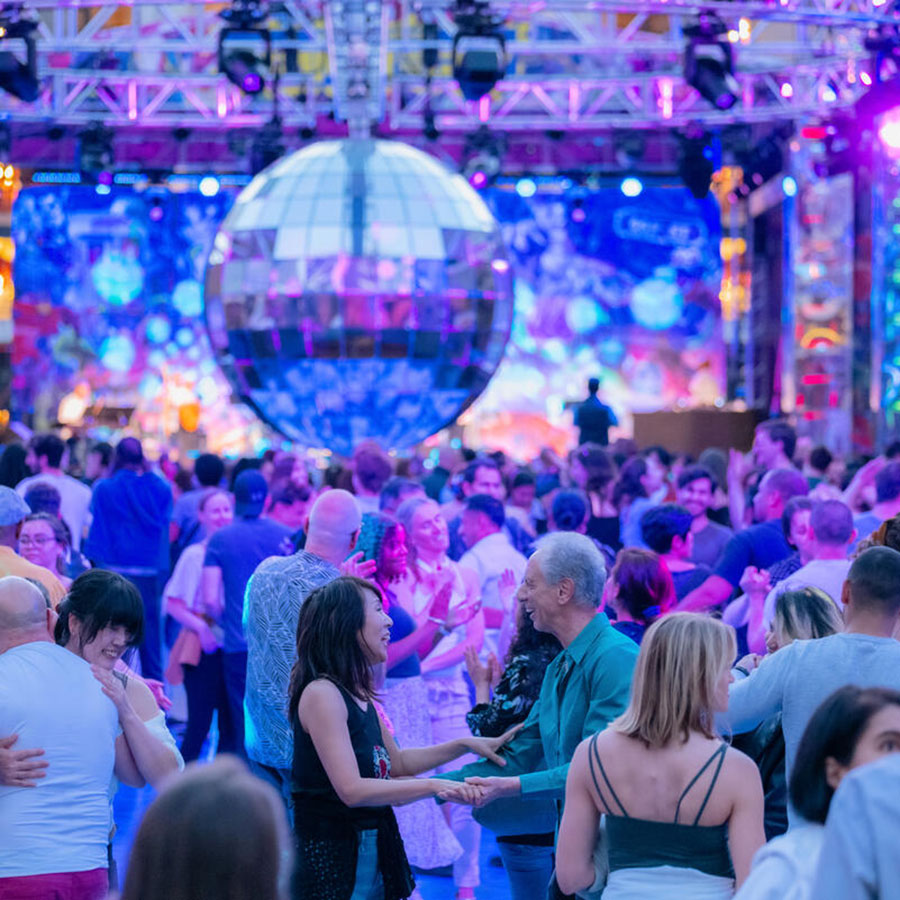 The Dance Floor at Josie Robertson Plaza
New York City's largest outdoor dance floor with a—now iconic—10-foot disco ball returns to Josie Robertson Plaza as the centerpiece of Summer for the City. Designed once again by Visual Director Clint Ramos, this year's dance floor is covered in colorful botanicals, setting the ambiance for the joyful and popular Social Dance and Silent Disco series. Don't miss New York City's hottest outdoor summer dance parties that are sure to satisfy any dancer's taste, including nights devoted to salsa, Lindy hop, disco, country, Hip-Hop, freestyle, ballroom, and much more. Explore events on The Dance Floor »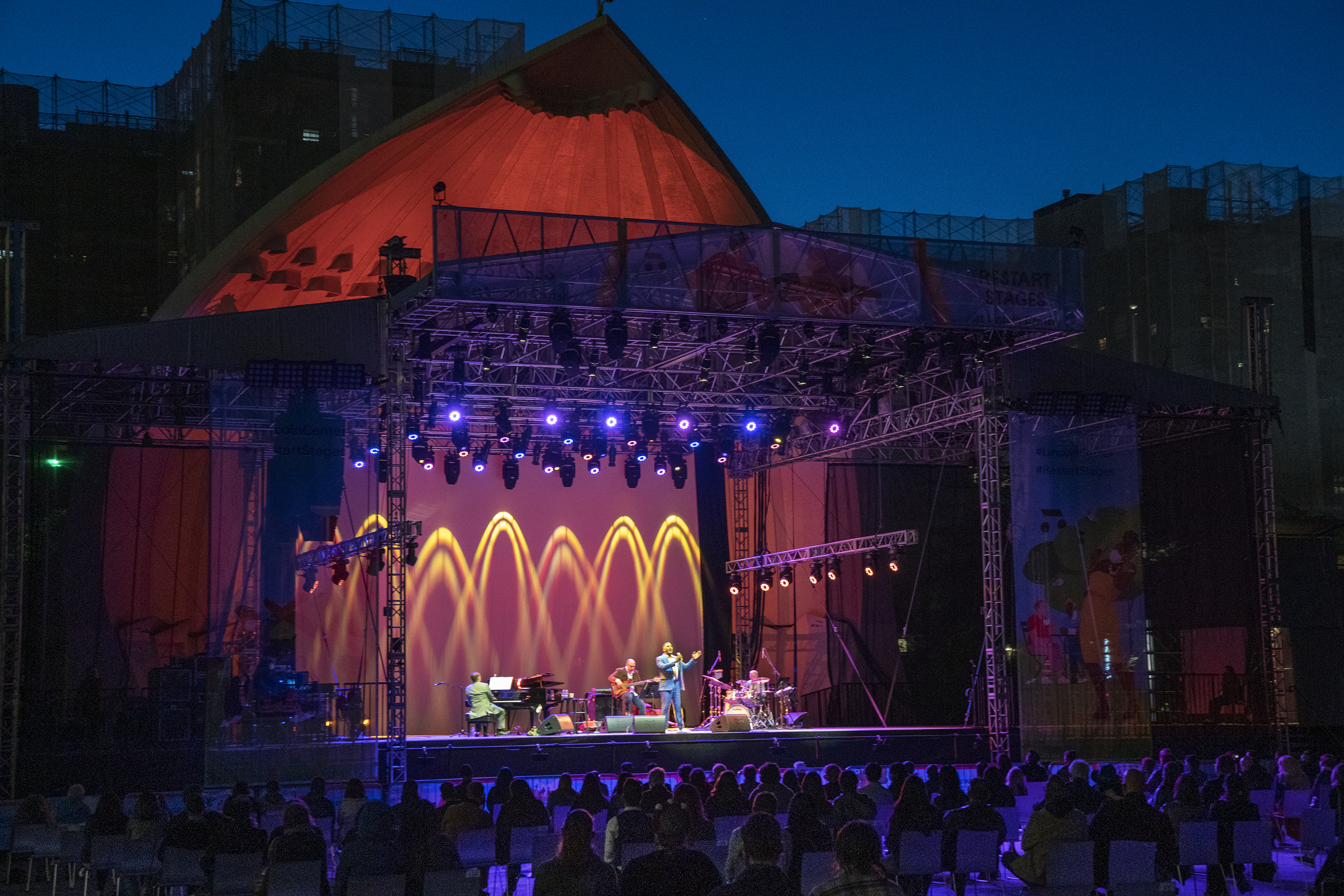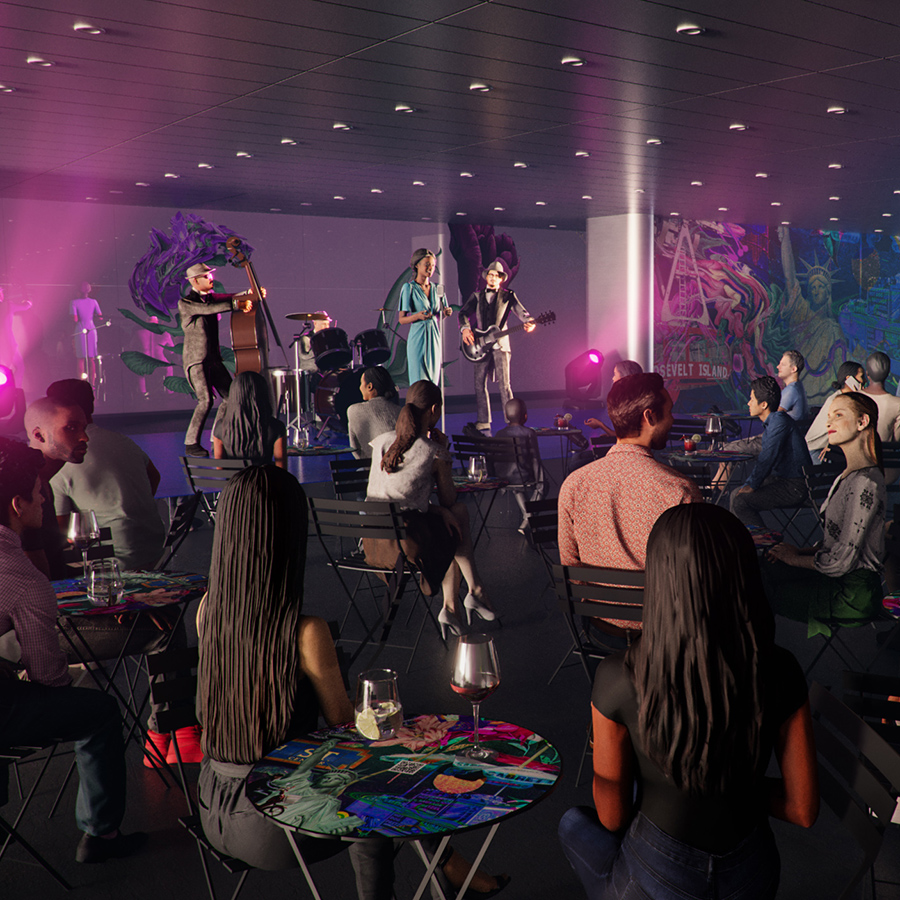 The Underground at Jaffe Drive
Also designed by Visual Director Clint Ramos, The Underground—a speakeasy-inspired performance space now expanded in size—returns this summer. Tucked away on Jaffe Drive, under Lincoln Center's Josie Robertson Plaza, the pop-up stage and bar hosts FREE comedy shows with NY Laughs, jazz sets presented by Jazz at Lincoln Center, and spoken word and poetry slams curated by Mahogany L. Browne.
E
xplore events at The Underground »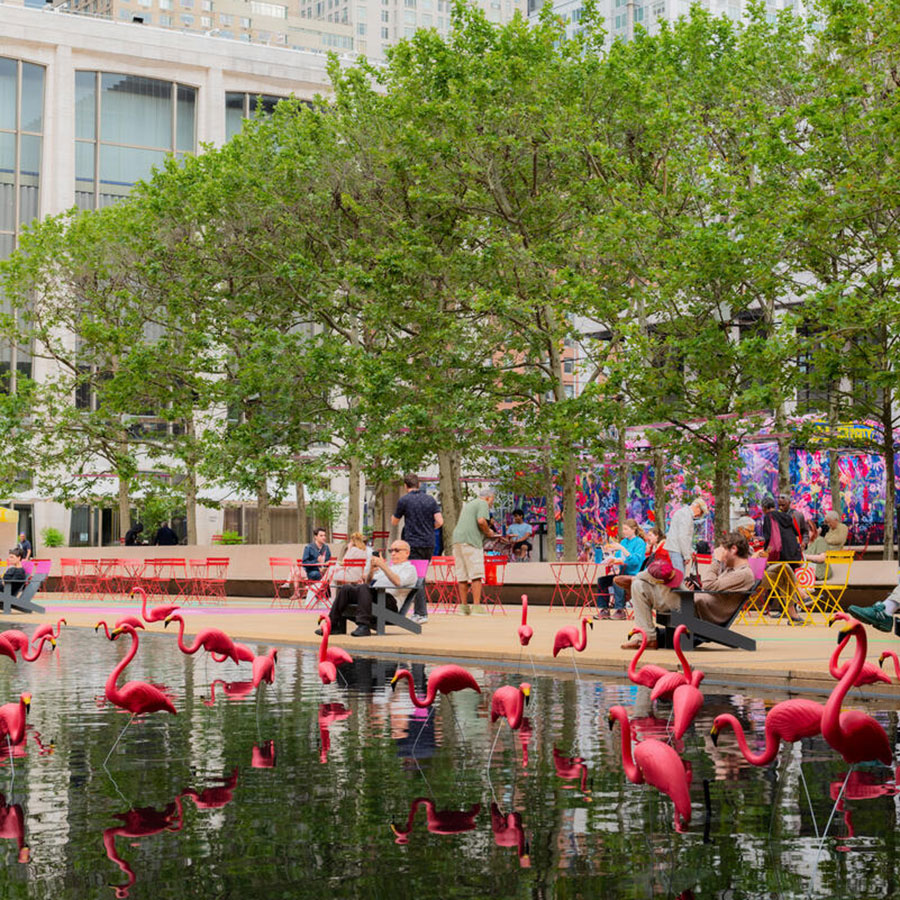 Hearst Plaza
We invite visitors to enjoy the outdoor space of Hearst Plaza this summer, featuring colorful floral designs, neon lights, corn hole, al fresco dining options, and a performance space that encircle a display of 200 pink flamingos wading in the Paul Milstein Reflecting Pool. Hearst Plaza hosts performances for kids, teens, and families on Saturday mornings, dance festivals, concerts, and much more.
Explore events at Hearst Plaza »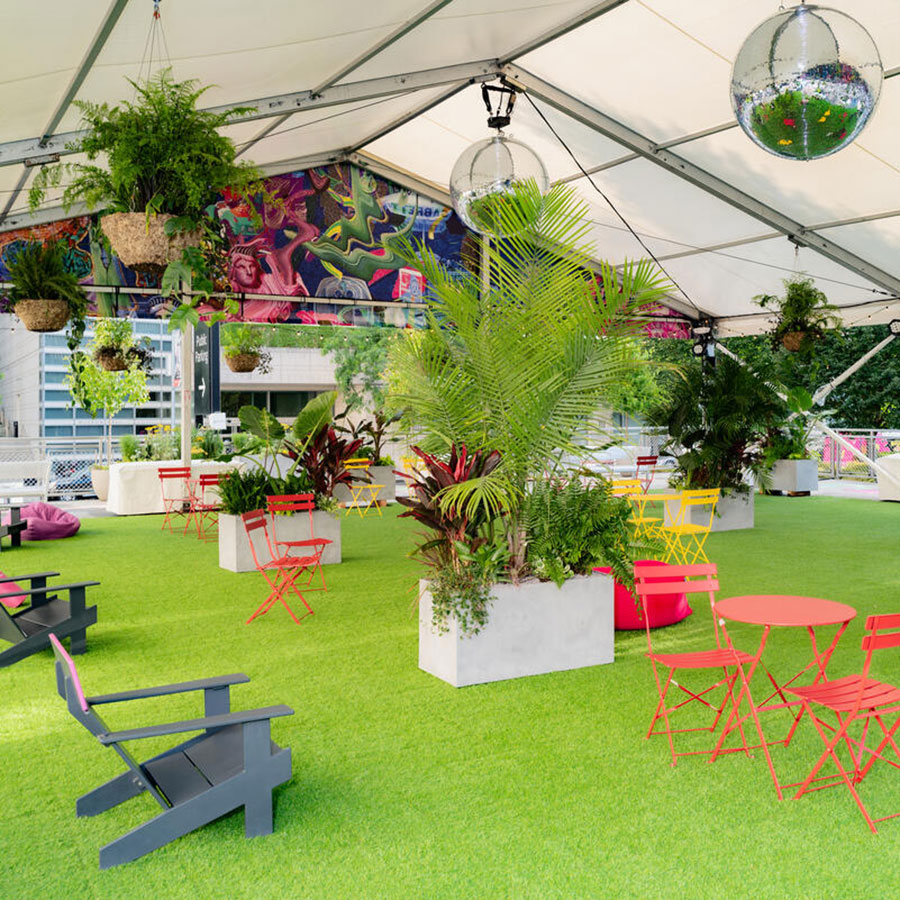 The Garden at Damrosch Park
Looking for a quiet place to unwind and relax while at Lincoln Center this summer? Stop by The Garden at Damrosch Park, a greenhouse-like retreat to chat, read a book, escape the sun, and be zen. The space is filled with greenery and plants designed in collaboration with Donyale Werle Design. On Wednesday mornings, The New York Public Library for the Performing Arts presents arts-based Storytimes for children, and Poet-in-Residence Mahogany L. Browne curates three poetry & meditation events throughout the summer. Explore events at The Garden »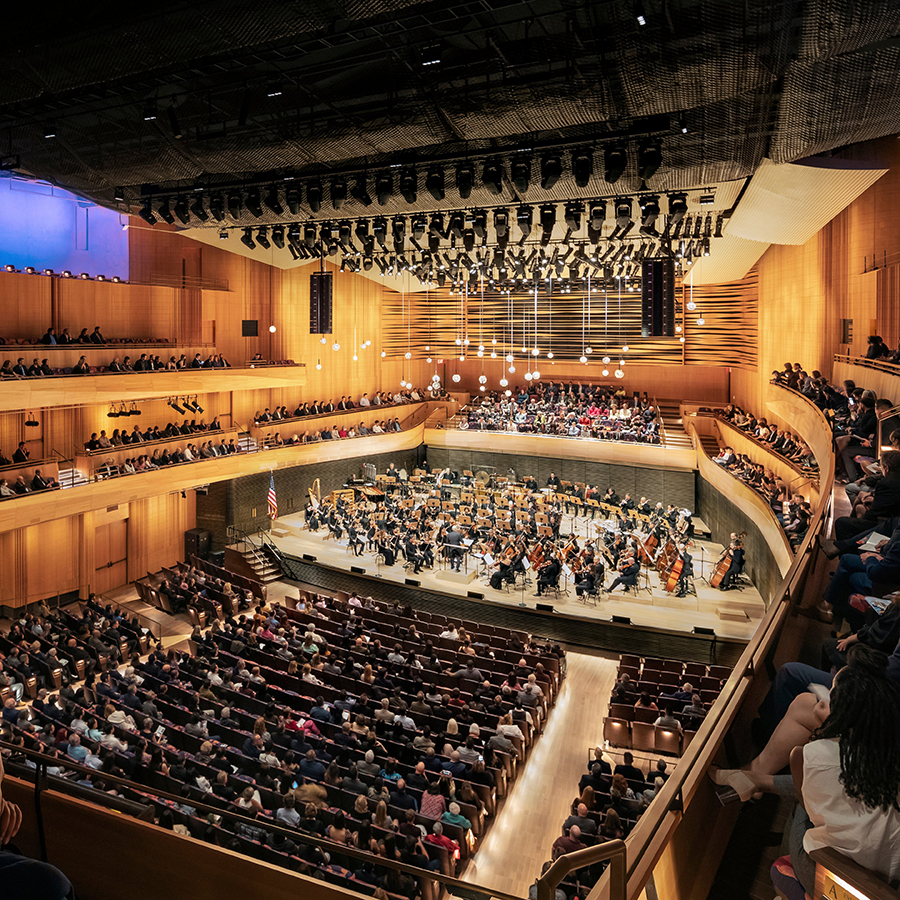 Accessibility
Lincoln Center seeks to create a more inclusive experience and meet access needs for our audiences by providing a range of accommodations for all performances.
All venues include accessible seating, entrances and restrooms, and alternative entry for guests who are unable to stand in line due to a disability. ASL interpretation, audio description, live captioning, and haptics are integrated into dozens of performances.
Click here to explore accommodations for Summer for the City.
Health & Safety
At this time, face masks are welcome, but not required. Proof of COVID-19 vaccination is also not required; however, we encourage everyone to remain up to date on vaccinations before attending. If you have been exposed to someone who tested positive for COVID-19 in the past 10 days, a high quality, well-fitting face covering is required at all times.
Please note: COVID-19 protocols may vary at different performances on the Lincoln Center campus for presenters other than Lincoln Center for the Performing Arts. Be sure to check the website of the specific presenting organization at Lincoln Center or event to read about the COVID-19 protocols applicable to the event you are attending.
For greater detail, please click here.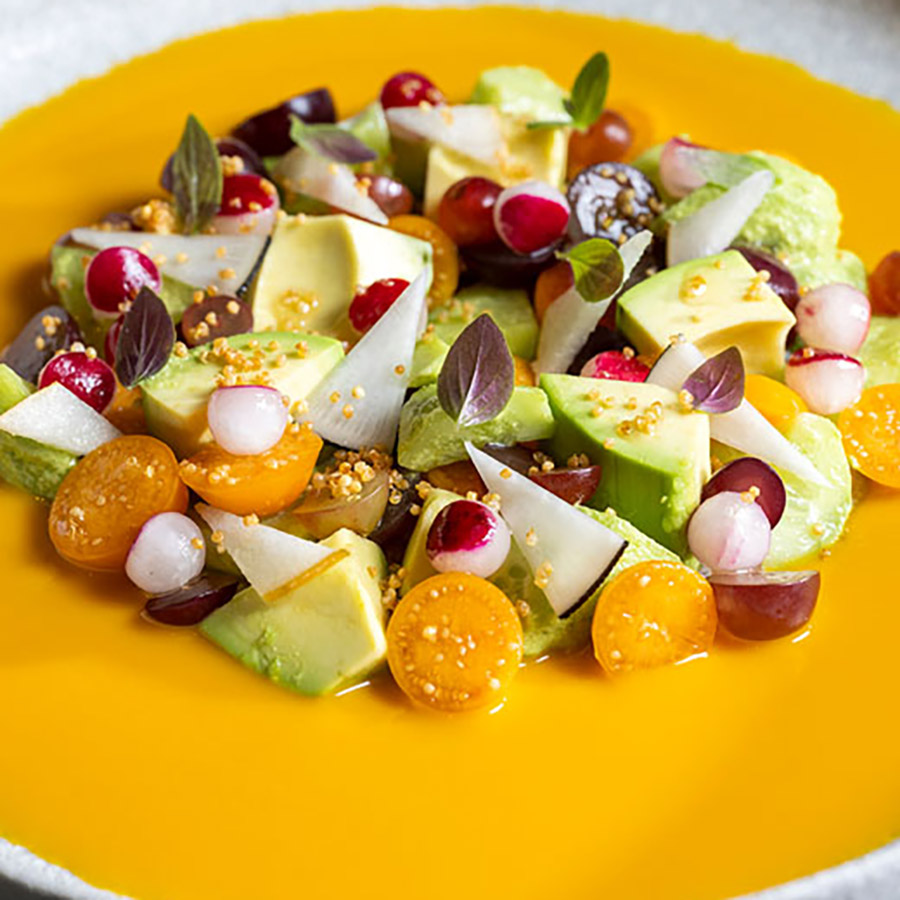 Food & beverage
Looking for a pre-show or mid-day drink, meal, small bite, or coffee? We have you covered; this summer, we're offering a variety of dining and grab-n-go options to audiences and visitors on campus at Lincoln Center.
Learn more »