Arts and Civic Engagement
At Lincoln Center, we believe the arts are an essential part of civic life. They reflect and inform the world in a process that is inherently democratic—valuing freedom of expression and an open exchange of ideas and calling for active participation of artists and audiences. Most importantly, they can and should be accessible to all.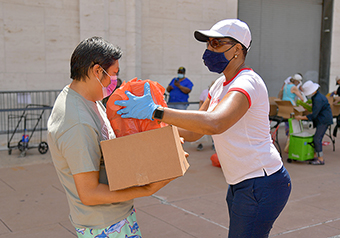 Photo courtesy of Food Bank For New York City/Getty
We rely on artists to respond to the most elemental aspects of the human experience and the greatest social issues facing our communities. They hold a mirror up to our thoughts, emotions, systems, and cultures while pushing us to question what is and imagine what could be. As we work towards a more perfect future, we look to the arts to bridge political, cultural, and geographical divides, encourage diverse viewpoints, and celebrate difference.
On this page, we're highlighting socially engaged artistic work, civic engagement programming, and ways to amplify your voice in the world. We hope that the passion and curiosity that drive your love of the arts will also ignite your commitment to making positive contributions in your community.