We're Launching a New Initiative to Make Amsterdam Avenue Side of Campus More Welcoming
Home to 11 performing arts organizations presenting an array of programming, Lincoln Center is known around the world as a cornerstone of New York City. Picture it and what often comes to mind are the iconic Revson Fountain, open plaza, and the famous facades of its performance halls—all oriented to the east.
For those approaching from the Amsterdam Avenue side, the view of Lincoln Center is far less inviting, with little to no direct access to the campus.
In an effort to make our physical environment more welcoming, we are undertaking an ambitious participatory planning process with local community members and stakeholders across New York City to reimagine the Amsterdam Avenue side of the Lincoln Center campus.
The campus was originally developed as part of a series of "urban renewal" projects in the 1950s that razed the nearby San Juan Hill community. This initiative is a continuation of Lincoln Center's Commitment to Change, actioning bold projects across the campus—including the expansion of free artistic programs, designing and implementing a new Choose-What-You-Pay ticketing model, the reopening of a newly redesigned David Geffen Hall, and working with partners across the city to host blood drives, food banks, graduations, naturalization ceremonies, and more—that marry artistic work and civic service, all with a commitment to expanding equity.
Together, we will explore how the Lincoln Center campus can be made more accessible, welcoming, and inclusive to create a greater sense of belonging for all.
A Purposeful and Inclusive Planning Process
Through a robust participatory planning and public engagement process, Lincoln Center for the Performing Arts (LCPA) will gather broad input from the public and local community on how to create greater access along its Amsterdam Avenue side. LCPA is leading the process in partnership with the award-winning architecture, urban design, and planning firm NADAAA and the nonprofit Hester Street, whose work focuses on centering the voices of people who are historically and currently excluded from decision-making processes in their neighborhoods and cities.
The participatory planning process will gather information from community members about current challenges and opportunities on the site. Neighbors, advocates, community groups, nearby educational institutions, elected officials, and members of the New York City community will all have opportunities to voice their ideas, interests, questions, and feedback throughout the process in different formats.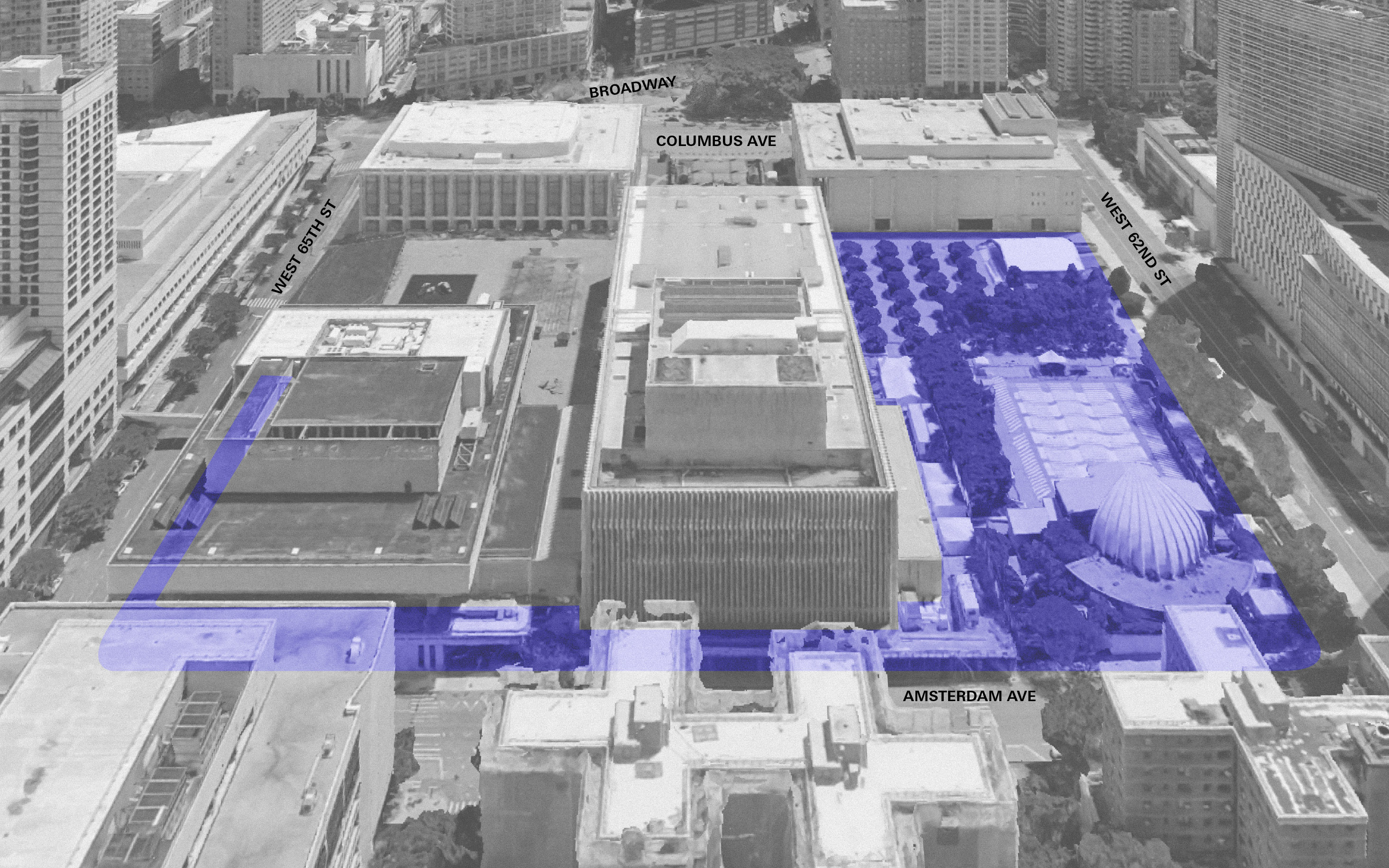 Among the goals of the initiative are to:
• Physically transform Lincoln Center's Amsterdam Avenue side to extend welcome to communities approaching from the west
• Better serve close neighbors, including residents of New York City Housing Authority campuses at Amsterdam Houses and Addition, and students of LaGuardia High School of Music and Performing Arts and the six high schools at the Martin Luther King, Jr. Educational Complex
• Create an improved performance park to meet artistic and community goals
• Commemorate the history and public memory of San Juan Hill and historic Lincoln Square
• Collaborate closely with neighbors, partners, and constituents to ensure a broad array of stakeholders have a voice in the process, allowing for a lasting, positive impact
Get Involved
Beginning this summer, we will be gathering broad input through a variety of engagement opportunities including a survey, community input tables at Lincoln Center events and other events in the community, focus groups, and additional workshops in the fall.
Look for the community input pop-up at Lincoln Center on the following dates and stop by to learn more and share your feedback! All in-person participants will get a voucher for a free drink to be redeemed at any outdoor bar or the Lobby Bar in David Geffen Hall this summer!
More dates to be added soon! Check back here for the latest as dates may be added or changed throughout the summer. Join the mailing list to receive updates on the process and learn more about opportunities to share your thoughts!
Have a question about how to get involved? Contact [email protected].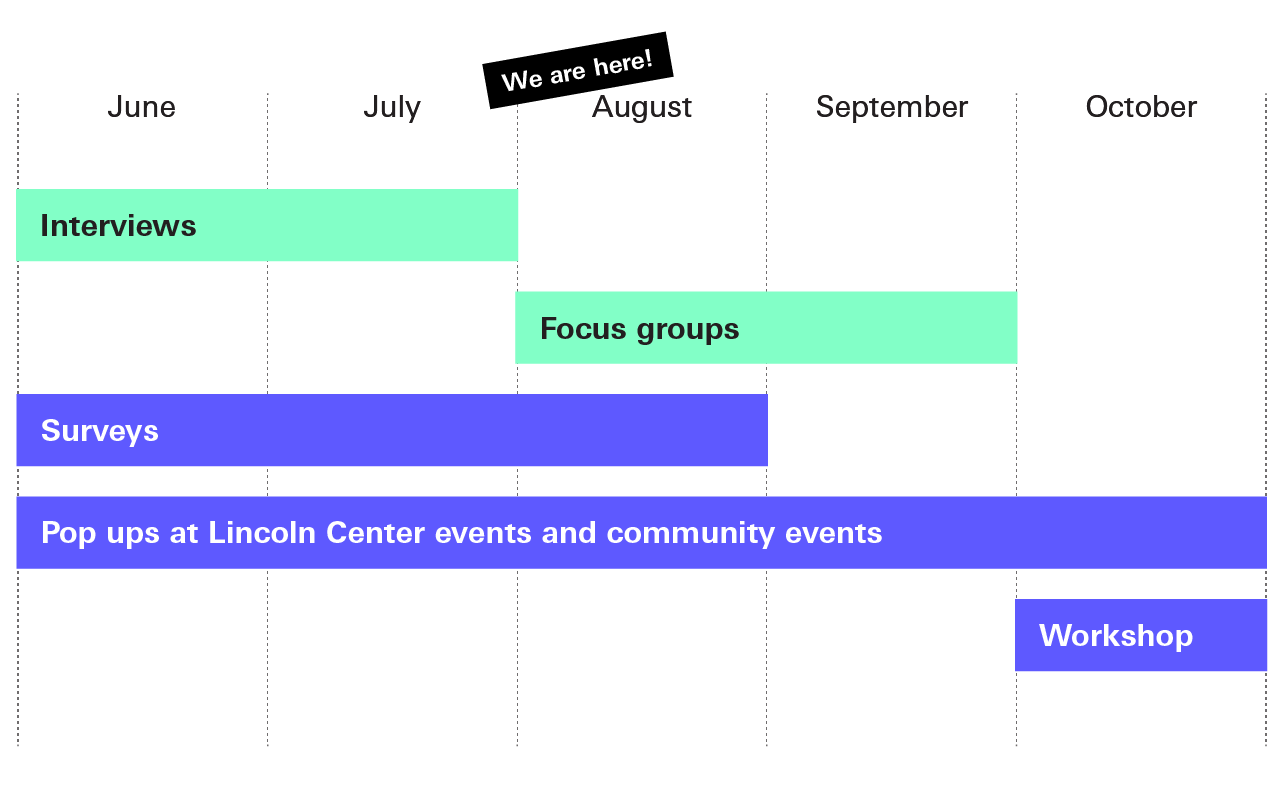 FAQ