Lincoln Center Map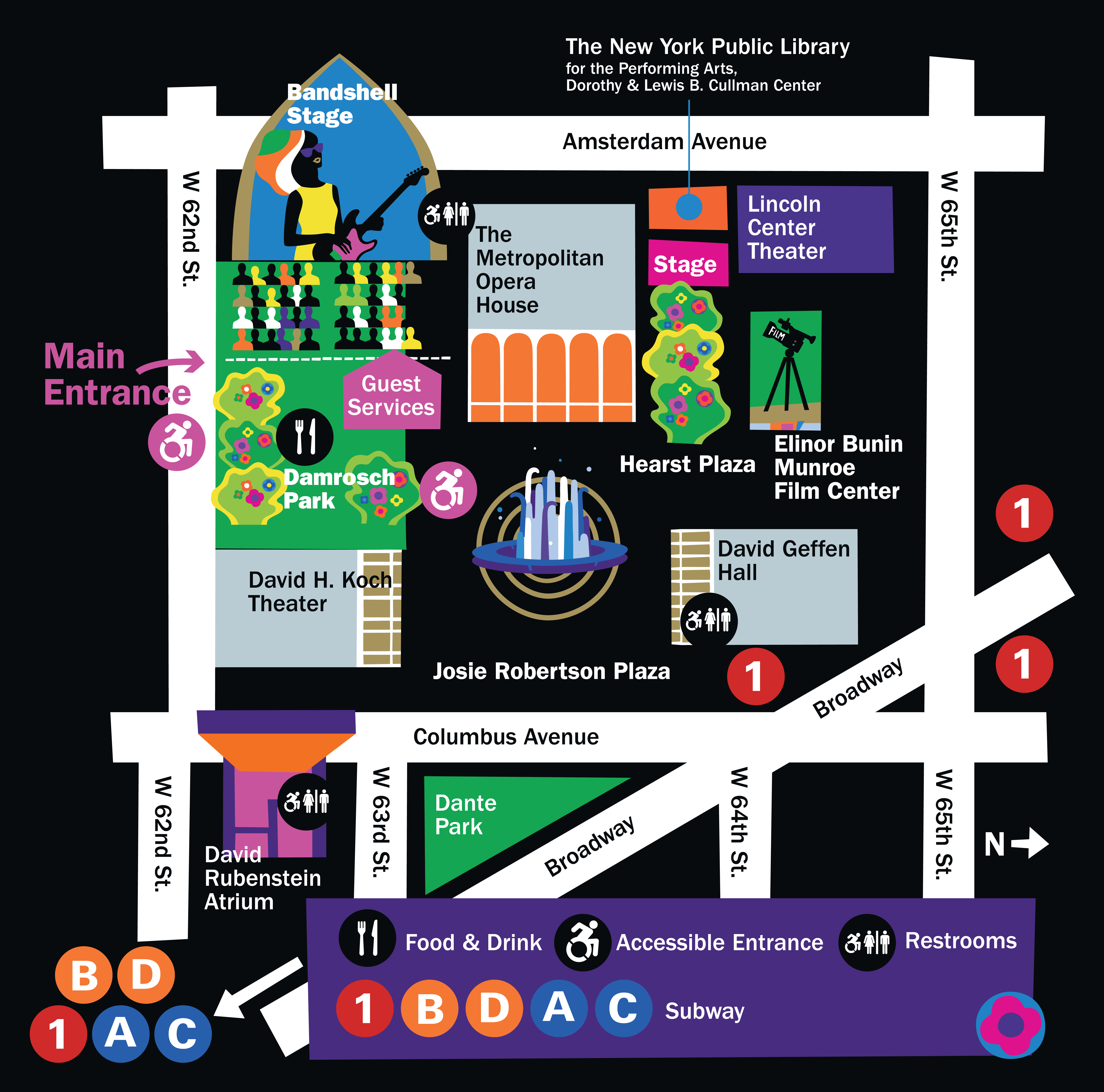 Getting Here
By subway: 1, A, B, C, D to 59th Street–Columbus Circle or 1 train to 66th Street–Lincoln Center.
By bus: M5, M7, M11, M66, M104 to Lincoln Center.
For driving directions and parking information, please click here.
By Access-A-Ride: Designated drop off at 20 Lincoln Center Plaza (Columbus Avenue between West 63rd and West 65th Streets)
Security
In an effort to create a more enjoyable experience as well as a comfortable and safe performance environment, Lincoln Center is expanding security measures for Out of Doors. Beginning at 5:00 pm on all event days, entry to Damrosch Park will be limited to three access points. Each of these points will include a security/bag inspection performed by Lincoln Center Security. Patrons who are already inside of the park are welcome to remain and enjoy the performance from where they are, however, all bags will be subject to inspection.
Seating
Seating in Damrosch Park is first come, first served, and gates open one hour prior to the performance, unless otherwise noted. The line for Damrosch Park–seating forms on 62nd Street. If you choose to stand in line, we recommend that you bring water and sunscreen and that your entire party be present.
If you are unable to stand in line due to a disability, please see the Accessible Entrance Policy below.
Event Programs & Timings
All artists and times are subject to change. Artists are generally listed in reverse order of appearance.
All events will end no later than 10:00 pm.
Food & Drink
Enjoy one of the visiting foods trucks and the Fun Bar featuring specialty frozen rosé, summer cocktails, wines, and beers. Available at Damrosch Park from 5:00 to 10:00 pm on evenings featuring performances.
The Deck, located at the southeastern corner of Damrosch Park, will feature a special Kid Zone to welcome Lincoln Center's youngest patrons with a "mini bar" stocked full of juices, candies, and free fruit, along with games.
Credit cards are accepted at bars.
Please note that outside alcohol is not permitted anywhere on the Lincoln Center campus. Alcoholic beverages purchased at our onsite vendors may only be consumed within the permitted areas.
Weather Alerts
Lincoln Center Out of Doors makes every effort to present each event of the season, weather permitting. For updates on delays or cancellations follow us on Twitter (@LincolnCenter) or visit the Facebook event page.
Accessibility
Accessible seating locations are available in Damrosch Park and Hearst Plaza.
FM assistive listening devices and neck loops are available at all amplified performances. Visit the Guest Services Information Tent to borrow. A driver's license or other valid form of identification is required as a security deposit.
Braille and large-print versions are available for events that have printed programs. American Sign Language interpretation available at La Casita (Saturday, July 27 and Sunday, July 28).
For more information about accessibility or to request an accommodation, please contact [email protected] or 212.875.5456.
Accessible Entrance Policy
For patrons who are unable to stand in line due to a disability, check-in for the accessible entrance is available at the Guest Services Information Tent 30 minutes prior to the gates opening. Each patron with a disability can bring up to three companions.
The accessible entrance opens at the same time as the public entrance. Please note that once the venue reaches capacity, all entrances (general public and accessible) will close. Checking in does not guarantee admission, and patrons who use the accessible entrance are not required to use accessible seats.