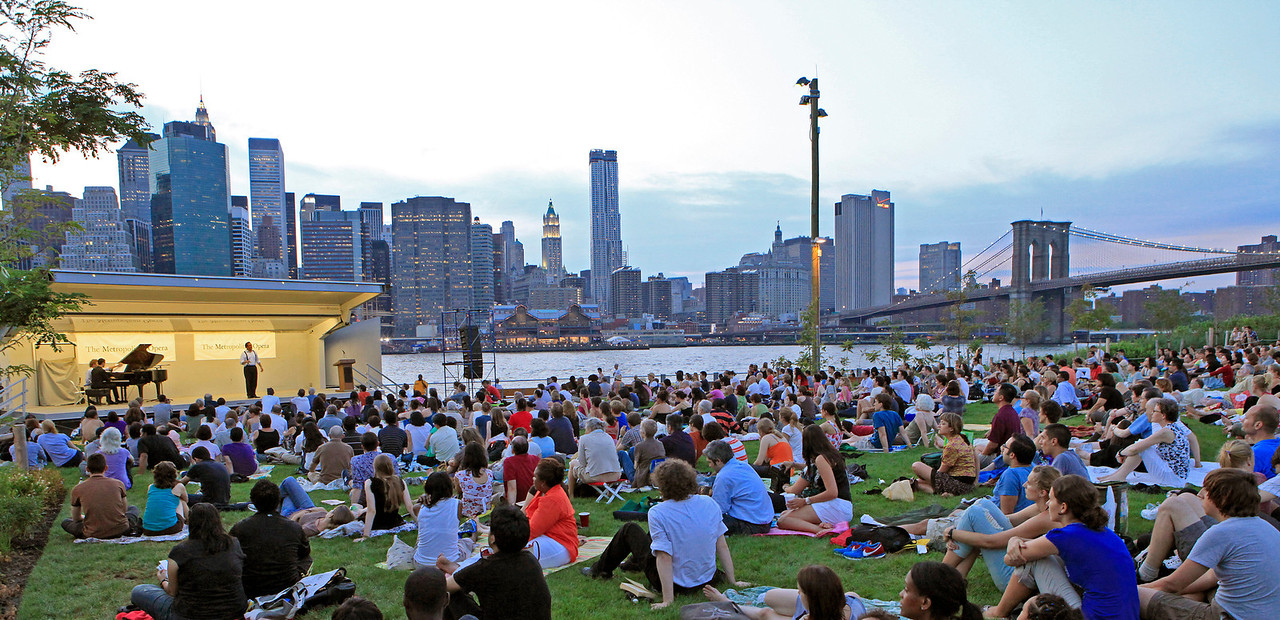 This event has passed
The Met's popular concert series in New York City parks in all five boroughs kicks off on Monday, June 10, at SummerStage in Central Park, with an evening of arias and duets from a variety of operas. The first two recitals feature audience favorites baritone Nathan Gunn, tenor Ben Bliss, and soprano Ying Fang, accompanied on piano by Dan Saunders. The four subsequent recitals showcase three exciting young artists—soprano Leah Hawkins, tenor Mario Bahg, and baritone Joseph Lim—with Dimitri Dover on piano.
The Summer Recital Series is supported, in part, by public funds from the New York City Department of Cultural Affairs, in partnership with the City Council, and in collaboration with the Department of Parks and Recreation.
Major funding has also been provided by The Elizabeth B. McGraw Foundation, in honor of Mrs. McGraw.
Bill de Blasio, Mayor, City of New York
Tom Finkelpearl, Commissioner, Cultural Affairs
Mitchell J. Silver, Commissioner, Parks and Recreation
Heather Lubov, Executive Director, City Parks Foundation
Monday, June 10, 8 PM
CityParks SummerStage in Central Park - Manhattan
Ying Fang, Soprano
Ben Bliss, Tenor
Nathan Gunn, Baritone
Dan Saunders, Pianist
Wednesday, June 12, 7 PM
Brooklyn Bridge Park, Pier 1 – Brooklyn
Ying Fang, Soprano
Ben Bliss, Tenor
Nathan Gunn, Baritone
Dan Saunders, Pianist
Thursday, June 13, 7 PM
Jackie Robinson Park – Manhattan
Leah Hawkins, Soprano
Mario Bahg, Tenor
Joseph Lim, Baritone
Dimitri Dover, Pianist
Saturday, June 15, 4 PM
Williamsbridge Oval – Bronx
Leah Hawkins, Soprano
Mario Bahg, Tenor
Joseph Lim, Baritone
Dimitri Dover, Pianist
Monday, June 17, 7 PM
Socrates Sculpture Park – Queens
Leah Hawkins, Soprano
Mario Bahg, Tenor
Joseph Lim, Baritone
Dimitri Dover, Pianist
Wednesday, June 19, 7 PM
Clove Lakes Park – Staten Island
Leah Hawkins, Soprano
Mario Bahg, Tenor
Joseph Lim, Baritone
Dimitri Dover, Pianist
2019 Summer Recital Series